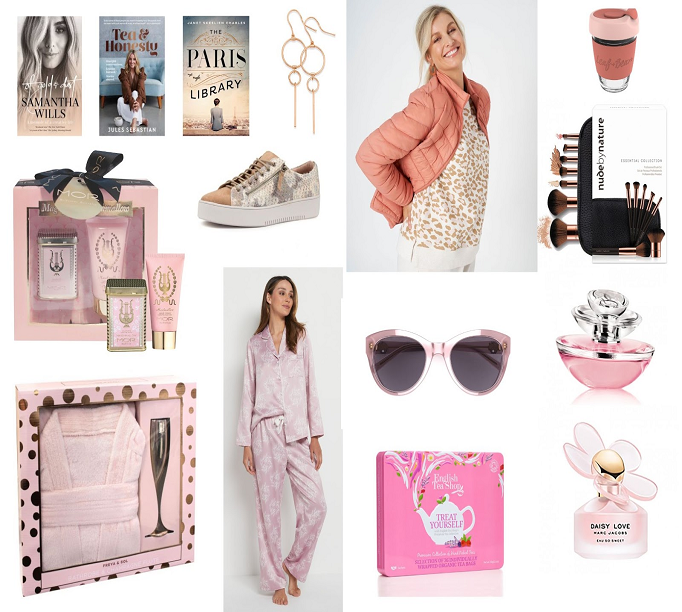 Mother's Day Style Guide
MOTHERS DAY GIFT GUIDE
She's your favourite person in the whole wide world and she puts up with everything from you calling every 5 minutes to help decide which McCain frozen meal to buy, listening to your rants about Karen using all the good Nespresso pods at the office again, picking you up from the mechanics when your car dies from forgetting to get it serviced (again) and then not calling at all for 3 weeks because life is good, you are on vacay and forgot to check in. She is a saint. Even when she is spilling hard truths, refusing to trust net banking and not agreeing wholeheartedly with your MAFS favourite coupling. Which means she deserves the BEST, most stylish and thoughtful gift ever to tell her she means the world right? We have taken all the hard work out of it for you and put together a handy guide from our stylist on what Mum really wants this Mothers Day.
GOOD READS
Give Mum an excuse to put up her feet and enjoy a little bit of down time while immersing herself in stories from successful Australian women such as Jules Sebastian and Samantha Wills. Books available now from Kmart.
SOMETHING EXTRA SPECIAL
Find me a woman that doesn't get butterflies when opening one of those fancy little felt boxes from a jeweller. Show Mum just how much she means with an extra special piece from Prouds. Rose gold styles are popular and add something new while able to be worn by both traditional Silver/Gold wearers. Gift Idea from Prouds 9 Ct Rose Gold Pendulum Drop Earrings $229
NEW SEASON STYLE
Mum will love this season's MUST have piece for her wardrobe, the puffer jacket. It's cosy but stylish and works for a stroll by the beach in your activewear, with knits and jeans for Mothers Day brunch or even thrown over PJ's to do school drop off without getting out of the car on a winter morning (it's fashion darling). Why not help her finish the look with a pair of extra sneakers that make Mum life feel pure glam? Nothing like a little snake print to jazz up a Coles run.
Gift Idea: Suzanne Grae Lightweight Puffer Jacket $69.95
Gift Idea: Django & Juliette Sneakers @ Johnston's Shoes.
CELEBRITY SHADES
Upgrade Mum's favourite sunglasses with a pair of seriously chic shades to hide late night insta scrolling, midnight feeds and those fun bouts of insomnia worrying about whether your kids are on the right track in life/drinking enough water/ever going to make those piano tuition fees worthwhile. Sunglasses are an affordable way to gift a bit of designer fashion and make Mum feel like a celeb - check out B & B sunglasses, OPSM and Specsavers for loads of stylish picks.
Gift Idea: Carla Zampatti @ Specsavers $199
SCENTSATIONAL BEAUTY IDEAS
A new bottle of her favourite scent is an easy win or check with the experts at Priceline for a new perfume that she might love to try. Daisy Love by Marc Jacobs is feminine and fruity and for connoisseurs of the finer things and Guerlain's Insolence is modern and bold but still delicate and will leave Mum feeling extra confident with one spritz. For the woman who already has it all, a new set of make-up brushes to up her cosmetic game to Kardashian levels, a sonic cleansing brush to make every face wash feel like a facial or a gift pack of super opulent soap and hand cream from the MOR collection at Nextra is something not many Mum's buy themselves on a whim.
Fragrances available from Priceline, MOR beauty available from Nextra.
THOUGHTFUL SURPRISES
Running late to Mothers Day lunch and need grab and go ideas that are a little outside the box? Check Smokemart for ingenious last minute gift solutions like a Bathrobe and Champagne Flute set to transform bath time to 5 star luxury at the InterContinental on Sydney Harbour vibes. Or a beautiful gold and black tea for one set matched with a delicious Luxury Tea Collection from Wholelife Pharmacy and Healthfoods. Perhaps she needs a cute new keep cup to take her tea on the road? With every calming sip of Chamomile Lavender tea she will think of what a thoughtful child she has so it's a win for all really.
Gift Idea: Leaf & Bean Sorrento Keep cup @ House $15.99