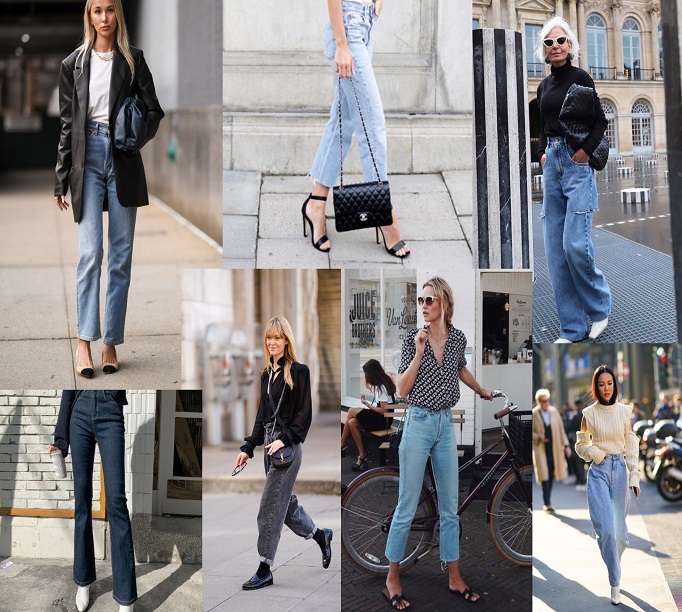 What to Wear When Skinny Jeans have been cancelled
In case you haven't heard, the voices of our future have spoken (loudly, in CAPS LOCK and with matching dance moves) and skinny-jeans have officially been cancelled (and side parts too while they were at it). Yes, apparently our fave denim go-to has become so obsolete and so terribly ringarde (to steal a word from Gen Z favourite Emily in Paris which translated from French means basic/has been/trash) that skinny-jean wearers are now the laughing stock of our younger peers.
Sure, we all stopped reaching for our skinnies sometime over the past year or two while we gained a few Covid kilos and started experimenting with the plethora of relaxed fits and "loungewear" hybrid denim popping up to accommodate more sedentary lifestyles, but somewhere in there our trustiest of jeans became so hated and uncool it apparently warranted a barrage of Tik Tok Videos tearing shreds into a two decade long love affair.
The generation for which it is so exciting and rare to get a drivers licence a song about it took over the world and who started a "toilet licking challenge" in a global pandemic may actually have some valid points - their key arguments are comfort and women's liberation. They see skinnies as torture devices worn by women to fit a patriachal ideal of style. If you've ever worn an ill-fitting pair of skinnies with little stretch after carb loading on pasta and bread you may actually see their point.
If you like the idea of ditching the skinny and playing with some new season denim here are the top styles to try in stores now!
SLIM BOOTCUT
Super flattering, especially for those with generous hip-lines and booty, this style hits the 70's vibes of the Autumn/Winter 21 season while being an eternally stylish denim choice.
PAPERBAG CUT
I mean, they asked for comfort and an elasticised/gathered waistband certainly makes sure of that! It's a fun shape with all the volume and movement required for a 2021 denim update and looks fabulous contrasted with delicate heels.


90'S BAGGY
Those quick to respond to the skinny haters have sat back smugly in their stovepipes and pointed out that fashion is one big circle and old trends inevitably become new again, as is the case with the super relaxed, puddle dragging skater girl jeans proliferating the feeds of Tik Tok superstars. 90's girls are having the last laugh as they've "been there, done that" with this latest craze and know it means that one day their beloved skinnies will once again be achingly hip and until then they will still quietly do their absolute best booty lifting, hip shaping, leng lengthening work. If you missed them the first time round, these babies are uber comfortable and scream chill vibes with zero muffin top while being a couch potato. Keep it sleek and cropped on top for a street style look or wear belted with a cardigan top. Sneakers essential!
SLIM STRAIGHT
This is the compromise for those struggling to move away from the skinny trend, a dip of the toe in the change to denim silhouettes. The Slim Straight is still form fitting but with a straighter leg so you get all the butt-lifting and tummy flattening of the skinny but with some extra shape balancing benefits from the wider leg. It is THE jean of the moment and your top pick for updating denim moving into the new season.


While it's been fun to watch the debate unfold, with skinny lovers, millennials and boomers fighting for a common cause, the general consensus is everyone has the freedom of choice and the right to wear whatever makes you feel good because hot damn if that isn't what personal style is all about! So choose your denim adventure whether it be in a new style or a tried and true and find what makes you feel amazing,