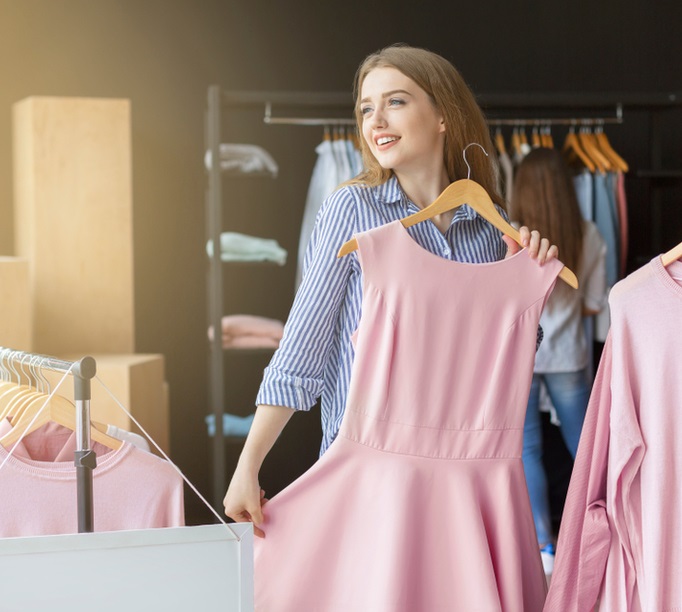 New Year New You
You know the deal, when the clock strikes midnight on New Year's Eve we all get a magical fresh start to conquer our goals and try to be the best, kale eating, downward dogging, Zen master, productive and organised versions of ourselves. The 1st of January is all matching Lycra sets, green smoothies and to-do lists. Why not look at self-improvement from a new angle this year and work on being the most stylish version of you? Personal style is often forgotten in our quest to look good and feel better. How we dress and put ourselves together is actually the quickest and most simple way to feel like your best self (certainly much easier than months of slogging it out at Barre classes and counting calories in rice cakes). Style is not only our message to the world about who we are, but also a significant way to build confidence within ourselves and put that spring back into our step. Whip your wardrobe into shape and find the "New You" by following our simple guide.

FIND YOUR STYLE ICON
Yes, we are giving you permission to lie on the beach and read magazines or sit on the couch and scroll. Best New Year's resolution ever! Flick through the glossies or check the gram to find who catches your eye and what looks speak to you. Tear out images and make a style vision board or save images to a Pinterest board so you have a point of reference for what your style vibe is. Are you classic chic like Amal Clooney or edgy and fashion forward like Gigi Hadid? Perhaps Jennifer Aniston's casual chic vibe is more you – polished but not trying too hard. Note what you like about your icon's style personas and what you would like to incorporate in yours – remember this is your own personal style journey and you can pick and choose to build something that is entirely you.

WARDROBE CLEAN OUT
It's time for an overhaul, and not just your average sweep through for the Salvos, you want to really spend some time going through every piece of clothing you own and examining it through critical eyes. As a starting point, pull out each piece and ask the following questions: *Is it in good condition? *Have I worn it in the last 12 months? *Does it fit? *Does it make me feel good when I put it on? Try things on again if you need to and make sure they flatter your body shape and are projecting the image of personal style you are looking to create. Be brutal! It's a tough gig and there are experts who can help do the job in a couple of hours by identifying what you have that works with your individual shape, what's worth keeping and what has just got to go. As a general rule, "throw" clothes and accessories that answer "No" to the above questions. This includes items that are stained or damaged beyond repair, that don't fit and probably wont in the very near future, and bold trend items (sequin mini shorts this means you) that you haven't worn in years and probably wont be making a comeback any time soon (kale smoothies can only do so much after all).

BECOME A SUSTAINABILITY QUEEN
So your bed or spare room is now probably chock-a-block with actual mountains of power shoulder blazers, lairy "what was I thinking" miniskirts and ballsy knits. Use the opportunity to tick another resolution off the list and be an environmental warrior in 2021 by learning about recycling programs that thoughtfully dispose of any clothing that has reached the end of its life. Some retail stores have bins that accept any kind of fabric waste and is recycled into all manner of things (new fabrics, roads, and houses) or marketed for profits which are donated to charities. Old shoes can also be donated to Planet Ark to be recycled into new shoes for the homeless. Continue to close the cycle and make some spare change to work towards your 2021 savings goals by selling any clothing, shoes and accessories in good condition on Facebook marketplace or at your local market. It is surprising how quick that pair of sequin hot pants will sell! There is truly a buyer for everything out there. Buying from trusted local brands like Bonds, Jeanswest and Sussans ensures re-sale value in the future and helps to ease guilt from the new purchases of your style makeover (you knew there was a shopping trip coming…)

BUILD A STRONG CORE WARDROBE
Ok, now the fun begins! It's time to start from the ground up and build a strong core wardrobe that suits your body, your budget and your lifestyle. Top of the shopping list is strong basics that you can live in, work with everything and make you feel great. Start with denim – well-fitting jeans are an absolute must for any wardrobe. Denim specialists like Jeanswest know what they are doing and offer a range of styles and fits to suit every single shape. Take advantage of their expert knowledge and spend some time with staff in store letting them know your needs, be frank about insecurities and try on their suggestions. Next up on your style makeover tour is Bonds for basic tees for living and layering, the iconic Aussie brand is known for its practical, everyday t-shirts with a variety of necklines. Find dressier tops, shirting and workhorse jackets in core neutrals and a "pop colour" at Sussans and Suzanne Grae. Consider a black blazer to polish up casual outfits and a classic trench coat to channel the French minimalist approach to style. Finish the style puzzle by adding the perfect dress from Noni B in a shape that transforms your figure and provides balance through clever necklines, tailoring and silhouettes.

FIND THE FUN IN STYLE
Your last challenge in finding the new, ridiculously stylish, run into old friends at Coles and knock their socks off at the cold meats counter, version of you is finding the fun in style. Dressing up is fun and makes us feel great! Fashion is not just for eighteen year olds hitting a nightclub on a Saturday night, it is a tool of self-expression and empowerment for women of every age. The only thing that changes may be the hemline but hey, it's 2021 and if we've learnt anything from 2020 there are no rules! Armed with your inspiration pics and your new motivation it's time to shop and add a few "love" pieces that inject personality to your wardrobe through bold prints, embellishments and trend statements. Follow your gut here and don't be afraid, gaining style confidence takes a minute. It might feel like learning to reverse park at first, terrifying and awkward and like everyone is looking at you, but do it again and again and you will do it without thinking and you will realise that if they are looking it's because you look FABULOUS.